Android 7.0 Nougat has finally hit a public release after being announced before Google I/O and being named through a poll. There are a lot of new features, whether they're big or small. Sure I could name them all, but you'd get bored before you finish the first 5.
While many users won't see Android Nougat for weeks to months, many Nexus owners and some Lg owners will see the update roll out over the next week. We've been beta testing the newest Android version, and it's been one of the most stable bug-free betas yet! There are tons of new features, and Google finessed a lot of Android, but there are three main features to note:
Emojis
Android already has 1500+ emojis built in but now has even more. Google has added actual "people" emojis. It's cool to see, but I feel like Google is rolling a bit behind. There are also dozens of new emojis that Apple doesn't have including an avocado which I've come to love.
I still wish Android would make there emojis look more standard to Apple's so there is less confusion on what different faces mean.
Notifications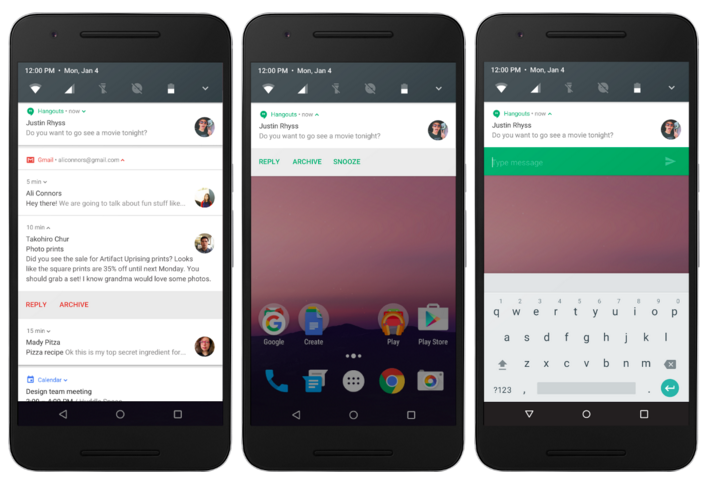 Google has been lately on the interaction with different notifications. As an iOS user and Beta participant/developer, I can say that I am pleased with how you can interact with notifications. Google has finally stepped up their game and now users running Nougat have the ability to reply directly from text messages and interact with notifications unlike before.
Split Screen
Split Screen has been available for Samsung devices and is a huge feature. You can watch Youtube videos while checking emails or browsing Facebook. It's not going to work with everything like Snapchat or other camera apps; some may also give you warnings about the app not displaying correctly. All in all, It's an outstanding feature that's worth the wait.
Wrap up
Android N isn't the biggest update to Android we've seen. However, it's an essential update that helps bring small updates to performance, battery life, and notifications. It's helped me fall back in love with Android, and my Nexus 6P. It's also Google's first try at rolling out updates through the system instead of waiting for carriers or companies like Samsung to roll out the updates.
Android N will slowly, I mean slowly, roll out to users. If anyone has it up and running, let us know what you think by using the comment section below!
Comments