So, a couple of days ago, the iPhone 5c and 5s were released, as many of you know. I happened to be due for an upgrade, so I picked one up for myself! Now, being that many of you will be upgrading from an iPhone 4s, just as I did, this article will be from that perspective. And boy, am I happy I upgraded!
Speed
Speed is one of the first things to be talked about when comparing specs of a phone, and the iPhone 5s does a fantastic job with its new A7 processor, paired with the brand new M7 coprocessor. Whether it be a graphics-intense game, or just surfing the internet, the 5s blows the 4s out of the water. Despite the A7 chip specs not looking very impressive, being only a 1.3GHz dual-core processor, it still blows everything else out of the water, just as Apple said it did, as you can see in this Geekbench browser score graph: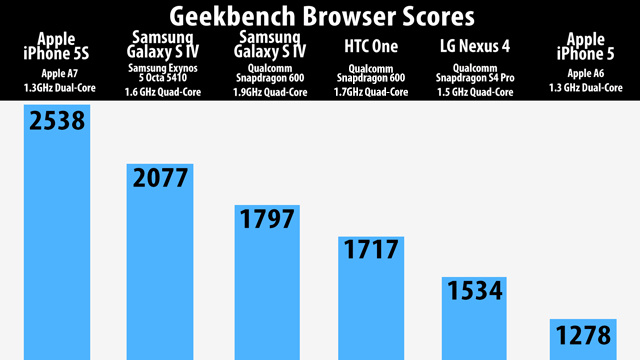 And it's not only just processing speed, but also cellular data speed. With the iPhone 4s, there's only 3g available, but with the 5 and 5s, LTE is now available, and the change is quite dramatic! Using Speedtest.net's iPhone app and testing the 4s and 5s at the same time, both on Verizon's network, the iPhone 4s yielded only about 5mbps, with the 5s at about 16mbps. However, the fastest I've clocked it at thus far was a whopping 26mbps!
Siri
With the new, crazy speeds of the processor and LTE, Siri has actually become useful. Before, I'd have to wait about 20 seconds just to get a response from Siri, and sometimes it just wouldn't go through at all. Now, I'm getting responses in an average of 2-5 seconds, with very accurate interpretations! Also, with the new iOS 7, Siri's voice sounds a bit more human than it did before, making it easier to listen to her.
Camera (photos)
Coming from the iPhone 4s or earlier, the camera seems like it may as well be a DSLR (maybe a little exaggeration). Don't get me wrong; the iPhone 4s had a great camera and I loved it compared to most other smartphone cameras, but the 5s takes some amazing photos! It's strong point especially being in low-light situations. Here's a comparison in a low-light situation with no flash and no editing done:
iPhone 4s:
iPhone 5s:
As you can see, there's a HUGE difference in these photos. The room was actually quite dark, so I'm amazed at how well the 5s did at picking up all of that light! Next, we'll see how the flash perform with the camera. The 5s features a brand new idea to cameras in general, using two flashes; one warm, and one cool, with the camera sensor taking in info and analyzing the scene to pick the best combination of the two LED's with over 1000 combos to choose from! Here's the result in complete darkness:
iPhone 4s: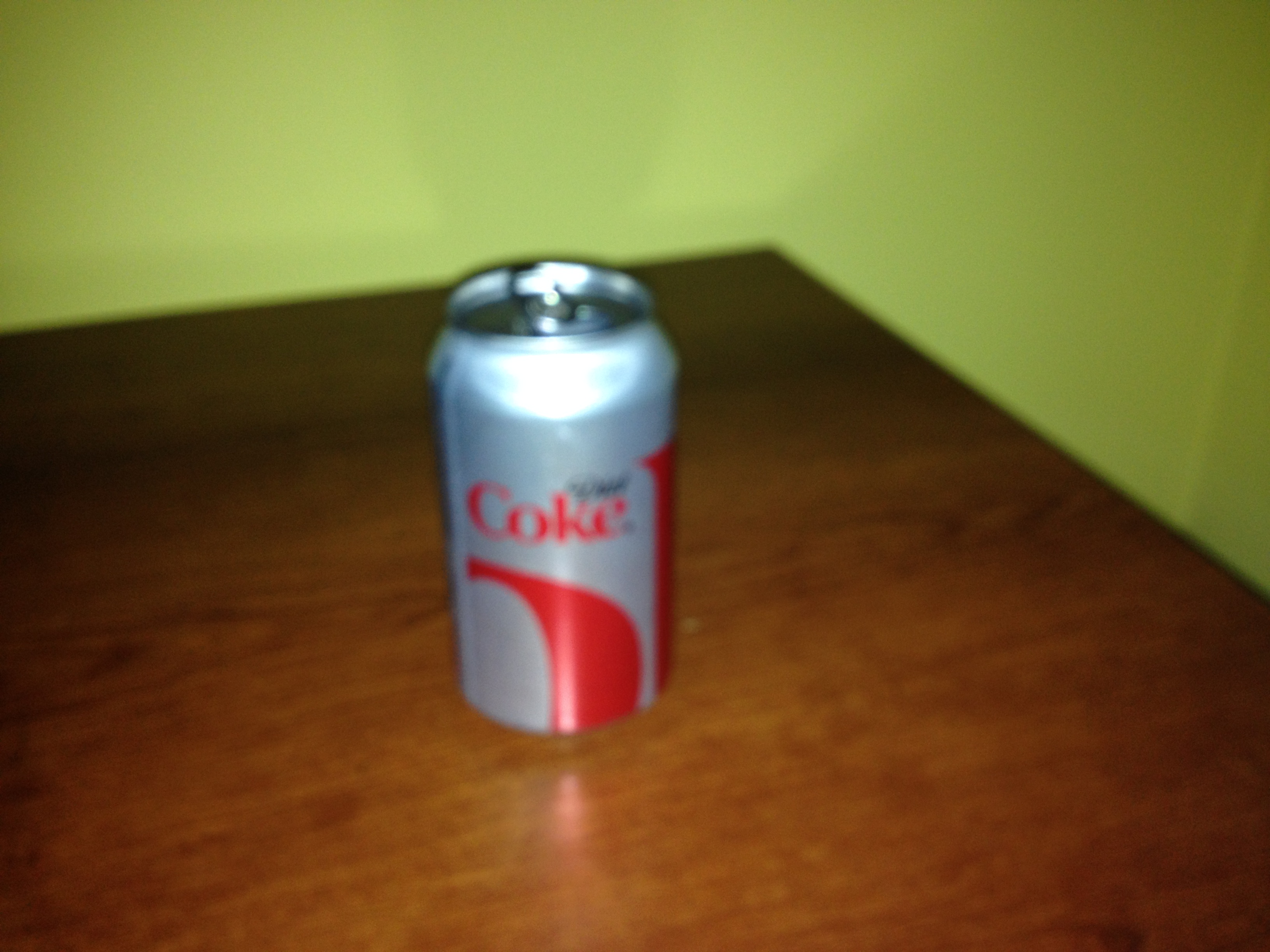 iPhone 5s:
And again, the 5s just completely trumps the 4s's sad attempt to take a photo in the dark. The problem with the 4s is that the flash doesn't stay on long enough while it's adjusting, so you end up with a blurry image and an unhappy you.
Camera (video)
As you can already tell, the 5s's camera is quite amazing for a phone, and the video on it isn't an exception! The back-facing camera has 1080p resolution, while the FaceTime camera has a 720p resolution. Both are quite impressive, especially compared to the 4s's! One other new feature is that the back camera can, at 720p resolution, take slow-motion video. I put together a few different samples of the slow-motion feature below!
TouchID
TouchID was one of the main reasons I got this phone specifically, because it's a brand new technology to smartphones, and Apple did such a great job of implementing it! So far it has been working very well, though there is just one problem with it. That problem is that sometimes it doesn't read your fingerprint even if you try and try again multiple times. What I'm thinking is happening is that oils and dirt is building up, throwing the sensor off, because if I wipe my finger and the sensor, it almost always fixes the problem. Hopefully Apple can do something about it in the software, but it isn't a huge problem.
The only other problem I have with the idea is that, you can still enter in a 4-digit code, meaning it's not really any more protective, which was the whole point of a fingerprint sensor, right? The way I've solved this is to, instead of using the 4-digit code, use a nice, long one, by turning off "Simple Passcode" in your settings. This way, the only options for someone trying to take your phone is to know a long password, or have the same fingerprint as you. Before, people often opted-in for the simple passcode, because it was fast to enter in and people didn't want to have to spend more than one or two seconds by choosing a long password. The problem with it was that it's easily memorized by anyone around you. Now, you can still have a very secure password, but still get in fast with your fingerprint, knowing it's very secure!
Conclusion
Apple's new flagship phone, the iPhone 5s, puts up quite a fight in the smartphone arena, and I'm personally quite glad I purchased one! With lightning speeds, new camera features, and a fingerprint sensor, it's a great choice for anyone looking for a new phone. Be sure to consider it in your phone shopping and during the holidays!
What do you think about the new features? Are they enough for you to want to get one for yourself? Let us know in the comments section below!
Comments