Samsung announced the Galaxy Note 8 only a little while ago, but case makers are already ramping up for all the new phone owners. While every case maker hasn't officially released their Note 8 case options, many including Otterbox and Spigen, have already announced their cases. If you're a fan of using first party accessories than third-party options, Samsung has some cases that'll meet anyone's needs. Samsung's cases provide unique integrations like the S View case where you can see notifications, alerts, and other messages through the case's front cover.
If you've pre-ordered from Samsung, Best Buy, or your carrier, you're making a $1,000 investment you'll want to protect over the next year or two. Whether you buy a Samsung case or a third party case, it's a good idea to have some case to protect that massive 6.3-inch screen.
---
Samsung S-View Flip Cover
Buy Now: $59.99
If you're set on getting a Samsung brand phone case for the Note 8, you'll want the S-View. The flip cover has a "see through" cover that will show you notifications and alerts. It'll help you see everything you need to know, including the time and weather, without having to open the flip cover. There's a kickstand, and it's the most expensive case on my list.
If you're okay with spending $60 on a case, you will want this Samsung one!
---
Caseology Slim Protect Shock Absorbing
Buy Now: $9.99
The Caseology slim shock absorbing case is perfect for anyone prone to dropping their phone. The case offers military grade protection, something you'll want to protect your $1,000 investment. The sides and back of the case have textures to help you grip the phone, something you'll want with the massive 6.3-inch screen. There is a raised lip, so even a drop on the face means you won't crack the screen.
For only $9.99 you're getting the best protection for only a fraction of what you paid for the phone.
---
Caseology Slim Protect Geometric
Buy Now: $13.99
If you want something a little more stylish than the shock absorbing one above, you'll need to look at this case. The Slim Protect Geometric has a geometric pattern on the back that provides an enhanced grip compared to a bare design. The buttons have cutouts, and the front has a raised lip, so you won't break the screen if you drop it on its face. There's the same military grade protect as the other case, but it all comes down to what design you prefer.
---
Moko Slim Bumper Case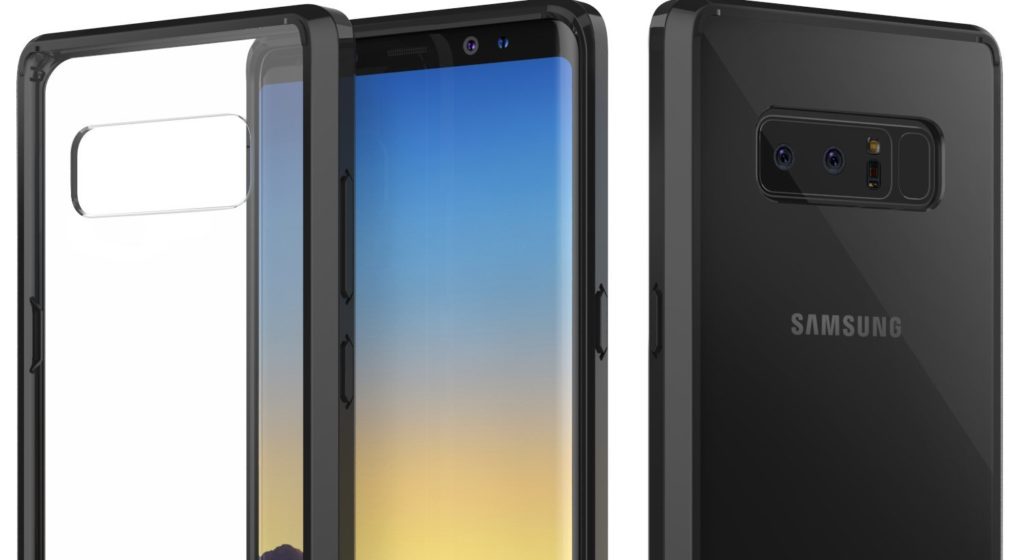 Buy Now: $8.99
If you're in the camp of going without a case, but you're still worried about the Note 8's massive screen being fragile, maybe you should look at the Moko Slim Bumper Case. The case has a clear back so you can show off the color of your Note 8 without too much fuss. There is a small bumper that curves with the screen, and the edges will help cushion the phone from any falls. The case is designed to focus on minimalism without sacrificing any protection, and all for $9.
---
Spigen Rugged Armor
Buy Now: $12.99
Now maybe you're looked for a rugged armored look? The Spigen Rugged Armor offers a tank look without all the excess bulk or size you'd have on a larger, bulky military grade case. The case is stylish with carbon accents, and the slick black look doesn't disappoint. If you want a screen protector on your phone, the case is compatible with Spigen's in house options. My favorite part is the case is flexible, so you're able to put it on and take it off quickly.
---
Spigen Slim Rugged Wallet Case
Buy Now: $16.99
Wallet cases are the rage these days – they help you leave the wallet at home and rely on Android Pay or Samsung Pay. If a store doesn't support one of those two methods, you can use your card or have your ID ready to go. It means you have to carry one less thing, which I'm all for! The case is similar to the Rugged Armor from Spigen, just add in the little carrying area and you the same case. The card slot doesn't add much more bulk, around .1 of an inch.
---
Wrap up
Whether you choose the Spigen wallet, slim bumper case, or the Samsung S-View, you'll keep your phone safe. While I would love to spend the extra money on the S-View case, I hate having to flip over my case to use my phone. I'd pick one of the slimmer rugged cases with a wallet option so that I wouldn't have a massive phone and a giant wallet to tote around too. I'm not the one picking the case, you are!
Let me know in the comments below what case you choose to buy! Also, I'd love to know why you've pre-ordered the Note 8.
Comments