WiFi routers are an important aspect of any living space. While it is easy to disregard their importance and tempting to rent the stock router from your ISP, finding a quality router can make a night and day difference in the speed, reach, and reliability of your network.
Before we get to the list, let's define some terms. There are two main types of routers: a conventional router and a "mesh" router.
Conventional Router
This is your everyday router you're used to seeing. It is a single unit, placed in a central location in your house. If the range of your router is too short, you'll need a range extender, which cannot be chained together and requires creating a second network. This means you'll have to disconnect your device and connect it to the "extended" network when you're in that area of the building.
Mesh Router
This is a new technology. Mesh routers can be connected to additional units, creating one giant network where all the "points" (or "sub-routers") can communicate. This eliminates the need for extenders, and you can stay connected to the same network at all times. Most mesh routers also come with additional smart management tools, which will be discussed in each option.
A Word on Speed
When comparing the maximum speed of a router, make sure your ISP can give you that speed to begin with. Why spend extra on a router that has a 1300Mbps speed when your ISP will only give you 100Mbps?
Here are seven solid options on some routers to give your WiFi a boost!
NETGEAR Nighthawk AC1750
The NETGEAR Nighthawk AC1750 router offers decent speeds at up to 1300Mbps with lower speeds of 450Mbps if you have an 802.11n network. The router is best suits a small house or apartment and brags about its ability to be ideal for "homes with 12 or more WiFi devices." This device comes with the "NETGEAR Genie" app, which allows you to easily monitor and control your network from your phone or PC. It offers a USB 3.0 port to plug in an external hard drive to use on your network, which can be immensely useful. For small houses or apartments, this is the best option on the list for you.
---
TP-Link N450
On a budget? A tight budget? You can't go wrong with the TP-Link N450 router. This router, priced at just $30 on Amazon, offers a no-frills solution to your WiFi. Don't expect anything fancy – it is a single band, 2.4GHz router with a maximum speed of 450Mbps. The device isn't recommended for 4K streaming, and there is also no USB port for accessing a storage device on your network. Whether you're a college student living the rough life, or maybe you just can't justify spending more than $30 on a router, this is a decent option to serve you for several years.
---
ASUS RT-ARCH13
If you've got a bit more to spend and desire better performance than the N450, check out the Asus RT-ARCH13. It's got dual network functionality, which means you can connect compatible devices to the faster 5GHz technology. This router is similar to the Nighthawk AC1750, offering a management app and a USB 3.0 port for connecting a storage device. The main drawback is it's lower quality connection standard at AC1300, compared to the AC1750 standard on the Nighthawk router. What does this mean? In short, the Nighthawk router is capable of offering higher speeds (in a perfect world, assuming your ISP can give you those speeds).
---
Google WiFi
This is where things get more expensive – and more exceptional. Google WiFi is the latest type of router for medium and large houses. By using its own smart management software, it constantly scans your surroundings to place your router on the least congested channel, best band, and connects you to the fastest "point" (or "sub-router"). It also has an app, which offers detailed management tools, statistics, and other useful features. Google WiFi isn't perfect, however, operating at a slightly disappointing AC1200 speed standard, offering maximum speeds of 867Mbps. It's also expensive, starting at $129 for one "point."
---
Eero Home WiFi System
The Eero Home WiFi System is another game in town in the mesh network market. Eero WiFi has roughly the same smart operating system as Google WiFi, but the Eero system costs a substantial amount more, starting at $199 per individual unit. Eero WiFi has the same convenient setup process as the Google WiFi, and its main disadvantage is the lower maximum speed of 600Mbps. The units feature a USB 2.0 port for network storage, which is desirable. The other disadvantage is the higher price tag. It's a hard sell over the Google WiFi for those two reasons. In the end, it is still an outstanding option.
---
Orbi Home WiFi System
Continuing the trend of mesh routers, NETGEAR jumped on board and they offer an impressive option: the Orbi Home WiFi System. Orbi Home has some advantages over the competition. First, the RBK50 model has speeds of up to 1733Mbps with coverage of up to 5,000 sq ft. It has the typical management software and app. Orbi Home is expensive (the RBK50 starts at $371 for 2 on Amazon) and also massive (compared to the alternatives), so be sure to map out where you plan to put it before you purchase it.
---
Samsung Connect Home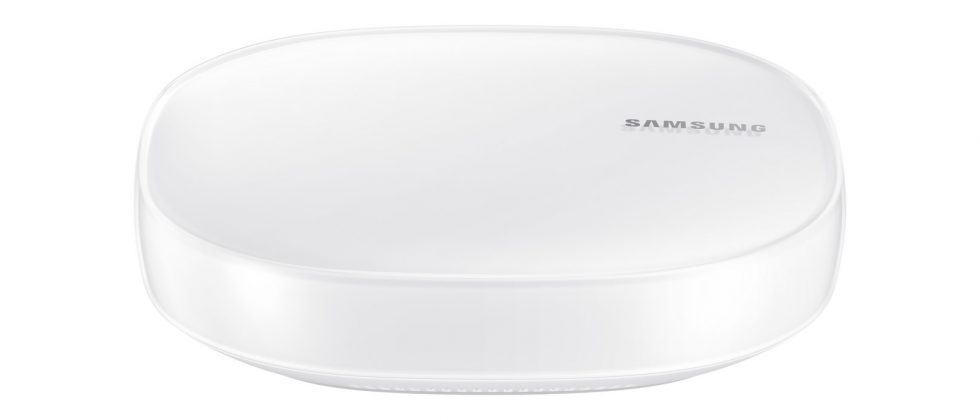 The Samsung Connect Home system is a unique mesh network solution. Samsung recently announced this device, and it looks to be promising. There are two models: the Connect Home, available in one or three unit packages, and Connect Home Pro, available in single units. Offering speeds of up to 1733Mbps (on the Connect Home Pro), the device has an extra trick up its sleeve: it also functions as a SmartThings Hub. Samsung packed the SmartThings Hub into the Connect Home routers, eliminating the need for an additional device. Samsung is expected to release pricing and availability for the Connect Home system later this year.
---
With seven solid options, there's something for everyone. Which router did you decide on? Drop a comment down below!
Comments