Routers are the lifeblood of how we access the internet. The ones we often have are the ones from our internet provider. They're not the easiest to setup, easiest to manage, or even the most reliable ones around. Part of the problem is the provided routers are not designed for the consumer in mind. They're for the technically inclined. Now there's a rise of easier to use, customer friendly routers on the market from Eero, Google Wifi, and even Netgear with the Orbi. They're mesh network systems that use a central router with repeaters station around the house, office, or apartment to offer the best coverage possible. The essential part of these routers is how you set them up: apps. Yes, instead of navigating to an address or shady URL you download an app to setup the router. You'll also use the app to control and manage the router from that point forward, giving you a modern interface on a device you always have on you. There's still a problem with these mesh router systems: they all broadcast on the same radio airways. This can cause congestion if you live in an apartment or densely populated area.
Luckily there's the Portal router. The router uses four different "FastLanes" to help ease congestion and keep your internet speeds at where they should be at.  Portal compares these FastLanes to HOV carpooling lanes. They use different radio waves to broadcast to your devices, giving you access to radio waves no one else is utilizing. At first, I was skeptical the Portal router could improve my speeds, but I've seen 3X improvement of my internet speeds during peak times.
In this review I'm going to discuss my experience with setup, usage, to just how much better my internet speeds are.
---
General Specs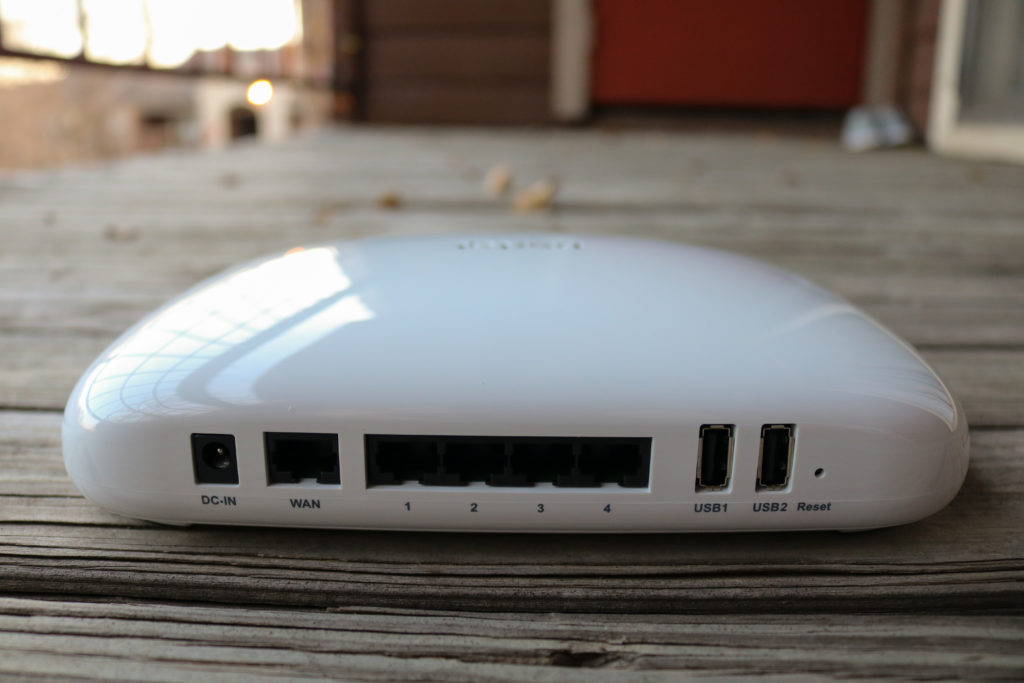 When you're looking at routers, there are a few things you'll look at. You'll want to see how many ethernet ports there are to plug in IoT devices and other devices directly into the router. You'll also want to check what networks you can broadcast from a 2.4Ghz to a 5Ghz network. While 5Ghz networks are faster and offer a more stable connection, devices like smart home devices don't support the networks. You'll also want to see what other connections you can provide, i.e. guest networks.
Here are all the specs in a little list:
AC2400 4×4 Wave 2 WiFi
Simultaneous dual-band WiFi (2.4GHz/5GHz): 802.11ac/n/g/b/a
Five (5) 10/100/1000 Mbps Gigabit Ethernet ports (1x WAN + 4x LAN)
4 DFS Certified FastLanes
Two USB2.0 ports
Bluetooth 4.0 Low Energy
9X powerful high gain internal antennas
Beamforming
MU-MIMO
Advanced Security
Guest Access
Backwards compatible
Intuitive mobile apps (iOS and Android).
---
Easy setup
There's an app for everything, even setting up your new router. Using Bluetooth to connect to the router. From there the installation takes a couple of minutes to get the network up and running. You're able to set up both the 2.4 and 5Ghz network from the app. You can also setup a guest network which can be geofenced for anyone visiting your house, business, or apartment.
Once your setup you can manage your network from anywhere. There aren't any accounts to set up, so you'll never have to remember passwords or phone numbers. You're able to see which devices are connected, and even manage what access they have to the internet. It's not unlike other systems, but the app is well designed and very fast.
---
Improved Speeds
There is ten different state of the art radios in the Portal with nine antennas broadcasting data up to 2,400 Mbps. One Portal can cover 3,000 sq. Ft, but you're able to join multiple Portal's to form a mesh network like Google Wifi, Eero, or Urbi can do. The Portal offers 4 FastLanes which can direct your Wifi device to the fastest radio signal to stream 4K video, play games lag free or download content. These FastLanes work like HOV lanes on the highway, except you're the only network with access. The router will direct you to the FastLane during a high congestion time to prevent your speeds from slowing down. I have TimeWarner Cable which is supposed to offer 100Mbps speeds, but with my old router, I'd only get 20 Mbps to 30 Mbps at high traffic times. While it's not the slowest speeds, the internet still felt unreliable. After Portal had been set up, I was able to get my 60 Mbps to 80 Mbps speeds even when everyone is online streaming Netflix or playing video games. That's 2x to 3x times the speeds I'd usually get.
I also had a dead spot in my bedroom before I got the Portal router. I only have a 1,200 sq. Ft. apartment, so the Portal was more than enough to cover the dead spot. I'm beyond pleased with the speeds and coverage I'm getting. I'm slated to get Fiber internet from AT&T in the coming weeks, and I'll re-review the Portal to see what the device does with Fiber speeds.
---
TL;DR
If you live in an apartment complex or have neighbors close by with wifi routers the Portal might be the answer to your Wifi problems. I've seen my internet speeds double over the past week. I've also seen less slow down when the 5 O'clock rush hour starts to hit. The other plus is the app which gave me an effortless setup, allows me to manage who's on my network, and even geofence guest access. Lastly, the Portal router had all but killed the dead spots in my home.
It's one of the fast and most reliable routers, beating out the NightHawk router. The ten different "state of the art" radios and nine internal antennas give you outstanding coverage without needing the technical know-how that takes to set up other routers.
Buy the Portal router on Amazon now! Then tell us your thoughts on the router, and whether it helped you get faster coverage with less dead spots.
Comments