YouTube launched YouTube TV at an event in Los Angeles. The service is comparable to all the other skinny bundles we've seen from DirecTV, PlayStation Vue, Sling TV, and others. YouTube TV is $35 for about three-dozen channels from ABC, CBS, FOX, and NBC. The networks included means you'll be able to watch EPSN, Bravo, and other TV shows on your phone, laptop, Chromecast devices, and Smart TVs.
YouTube TV is missing a few key channels including CNN, AMC, Comedy Central, MTV, and TBS to name a few. The company hasn't ruled out working with Turner Broadcasting, A+E Networks, Discovery Communications, or AMC Networks to get their shows onto YouTube.
YouTube has been working on YouTube TV for two years now, but we'll have to wait for a little before it launches sometime this spring. The features at launch will include:
Unlimited cloud DVR
A recommendation engine powered by Google's AI
Reliability and scalability
The unlimited cloud DVR will give users the flexibility to watch the shows they love whenever and where ever. The service has the NFL, but you won't be able to watch the games on your phone. You can watch on your laptop or a Chromecast device.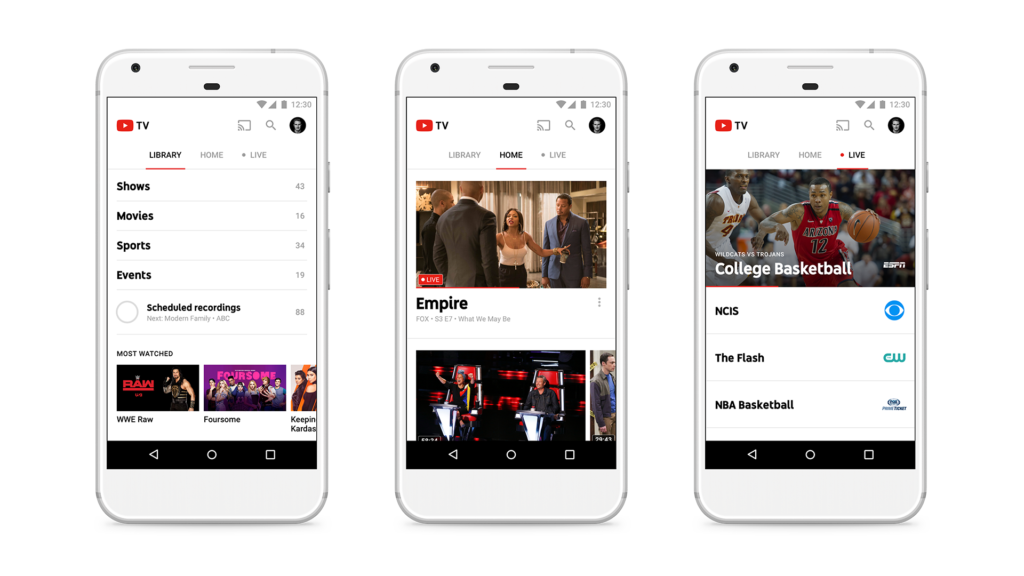 YouTube TV is just traditional cable on YouTube
When you break down YouTube TV down to a basic level, you'll see it's just the traditional television model. You won't have on demand shows like on Hulu, but you're able to DVR all the shows your little heart desires. If you remember to record the TV show, which I doubt I'll remember. Otherwise, you can watch TV live, but I never have time to watch live. There are a few occasions where live TV works; award shows, sports, and other culture events where Twitter is ablaze with conversation.
One essential part of YouTube TV is you'll get all of YouTube Red's content, and you'll get an ad-free YouTube experience. I've been paying for YouTube Red since it's launch, not for the exclusive content but for the ad-free experience. YouTube TV is $35 which get you all of that plus what you'd get with YouTube Red. The value of the TV bundle is better than what you'd get from DirecTV, Sling TV, or other options online. While I hate the idea of YouTube caving to the TV industry what they're doing is welcomed. I want all my TV shows, movies, and YouTube content in one place. That reason is why I buy movies through Google Play. I'm able to watch them through YouTube's library effortlessly. If I'm able to watch all everything on YouTube, I'll gladly give them all my money.
YouTube TV doesn't launch for a little in select market. They won't begin nationwide because they have to deal with local affiliates and different deals. This means only a small subset of users will get access to the TV service at first, with a larger rollout over time.
What do you think about YouTube TV? Will you subscribe to the service once it launches? Tell us in the comments below!
Comments