Honor's latest phone, the Honor 6X, is obsessively being pitched to millennials. Everything feature on how the phone looks is being marketed as a direct response to what millennials have been asking for. The stunning camera and two-day battery life are their biggest millennial attraction; two features everyone could get behind, millennial or not.
At $249.99, the phone is relatively affordable for most. There are no carriers to go through, simply buy through Amazon Prime for quick and easy shipping. One important note is the phone is GSM only so will only work with AT&T and T-Mobile. Everything from the superb camera, two-day battery life, and quick charging feature make the phone feel less like a midrange phone and something you'd spend $699 for. Honor did have to cut corners by using Android 6.0 and Huawei's older EMUI 4.1 Android skin, there is also a lack of USB-C and NFC, and their dual-camera can feel like a gimmick.
---
The Specs
The Honor 6X is a mid-range phone with mid-range specs. They'll still impress with their cameras and Kirin processor. It's still nothing compared to the iPhone 6S or Google Pixel. Here is the full list of specs:
5.5-inch 1920x1080p HD display (403ppi)
12mp and 2mp rear cameras
8mp front-facing camera
Android 6.0 with Huawei's EMUI 4.1 software
3,340mAh battery
2.1GHz octa-core Kirin 655 processor.
Fingerprint sensor
microSD
---
The Cons
EMUI 4.1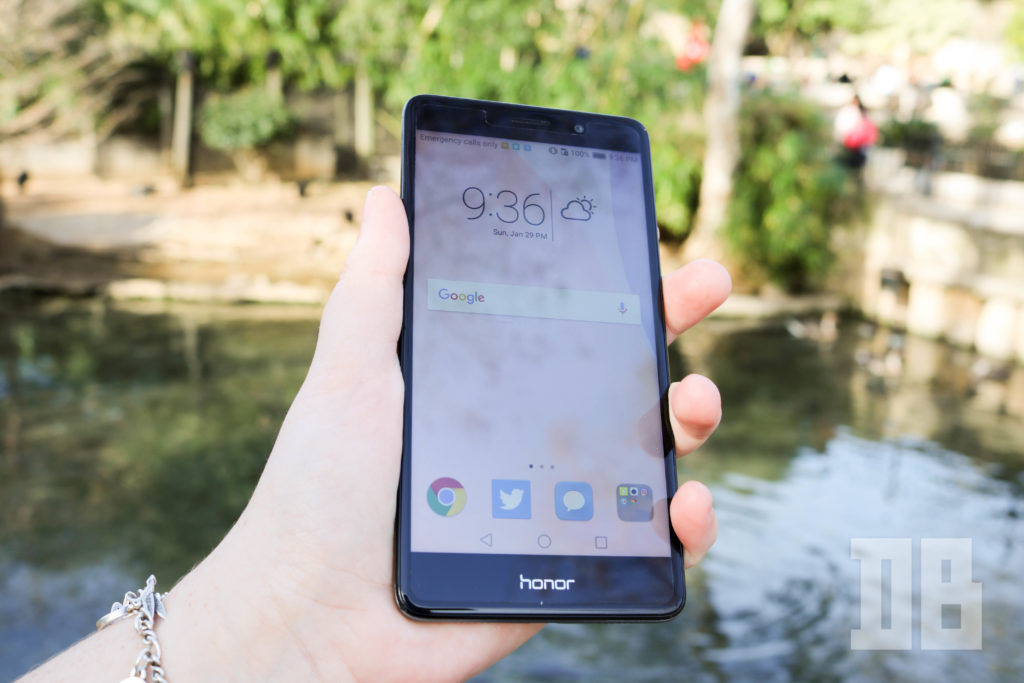 Ugh, Android Skins. The Honor 6X arrives with Android 6.0.1 Marshmallow, despite the fact, other Honors and Huawei phones are getting Android 7.0. It makes a big difference in how usable the phone is.
Huawei's Emotion UI 4.1 isn't the latest and greatest. EMUI 5.0 is vastly more functional, visually pleasing and has better battery performance than the version Honor's using on this phone. Honor does claim they're working on the Nougat update with EMUI 5.0 in Q2 of 2017, but we won't hold our breath.
---
Lack of USB-C
Not including USB-C on a current generation phone is a huge deal breaker for me. I know it won't matter to many who are using Android phones that currently have Micro-USB. I'm also not sure if most Honor users have a device with USB-C. There's also no NFC which means you won't have Android Pay, but once again not sure if that matters to most Honor users.
If Honor takes notes from users, they'll include USB-C in their next Honor 6X phone.
---
Poor Screen
The 5.5-inch display 1920x1080p display is full HD, an improvement over the Honor 5X screen. It's brighter and has more viewing angles. The screen is still a far cry from the high-resolution ones you'll find on the iPhone 7, Google Pixel, or even Oneplus 3t. In direct sunlight, the screen is completely unusable. Well anywhere near sunlight, the screen colors are muted, and I found it hard to see anything on the screen.
It's usable in most cases, but if you're outside often, you'll have a hard time seeing what's on your screen, even with the brightness set to max.
---
The Pros
Camera Quality
The dual camera on the rear is an emerging trend which still feels like a gimmick. A lot of the problems with the camera come from the software effects. The dual camera allows for an artificial blurring of the background. You're able to adjust the f-stop of the digital aperture, allowing you adjust it as your taking a photo or even long after the picture was taken. HDR is of little assistance, blowing out lighter colors and making the darker areas look terrible. When the blur effect works and HDR gets it right, the photos are some of the best I've seen. The Blur effect doesn't always work; sometimes it has a hard time understanding where the background starts and ends.
Overall, it's not an iPhone camera. It is one of the best Android cameras I've tried on a lower end budget phone, blowing the Nexus devices out of the water.
---
2-day battery life
TWO DAY BATTERY LIFE! Yes, the phone can get close to two days worth of battery life. The standby time is also mind numbing, almost 6 or 7 days. I am a heavy user of Twitter, Facebook, and Instagram with a lot of screen on time. I managed to get 8 hours of screen on time and almost 36 hours out of the phone. A typical user could surely squeeze out two full days. The quick charging means you can get almost a full charge in as little as 2 hours.
Not many phones can live up to their battery life claims, but Honor manages to get close to them. It's a great feeling to know you're phone will make it through the day. I'm used to always having a battery bank or charger on me for those quick charges. With the 6X you can leave those battery banks and chargers at home!
---
Price
For only $249 you'll be making a solid buy, especially if you're going to upgrade to the latest and greatest Honor for ever year. The price to quality ratio is well above other phones you'd buy with the solid aluminum and minimal plastic. The step up from the Honor 6X is the OnePlus 3T, but you'd end up spending a few extra hundred. Another factor in buying this phone is how easy it's to get. Honor sells the phone through Amazon Prime meaning Prime subscribers can use free two-day shipping or even in some cases same day shipping for free! A big win for Prime subscribers.
---
Overall
The phone is a buy for anyone on a budget or even if you're looking for an unlocked Android phone. The pros heavily outweigh any and all negatives on the phone. Whether you're watching the price, battery life, or camera you'll always manage to overlook the small corners Honor cut to keep the price low. While I hate the fact they opted for Micro-USB instead of USB-C, it's something many folks will not notice. If anyone from Honor is reading this; including USB-C in the 6X would have made it one of the best mid-range phones around.
Hopefully, Huawei manages to update their Android skin to the latest version which is more clean and usable. I wouldn't hold your breath. For $249 I would recommend the phone to anyone on a budget unless they could spend a little more, than the Oneplus 3 is always an option.
Tell us in the comments below what you think about the Honor 6X and whether you're going to pick up the phone from Amazon or another store!
Gallery
Comments