Online video is becoming a vast sea of varied content from tutorials to reviews, and even beauty and gaming. Content creators across the world are putting content up on Youtube, while trying to make a name for themselves. Also being a content creator, I can relate to what it's like to be one. We put in hours of work shooting videos that vary from topic to topic just to give our audience something to come back too everyday. The greatest thing about Youtube? By far how easy it is to start your channel, which could be good or bad. Starting a Youtube is great, and I highly recommend it. If you have a passion that you love pursuing whether that's coding, design, beauty, or even gaming, give it a go. But what is VidCon? And why is it so important?
What Is VidCon?
VidCon, first of all, is a conference where content creators and fans alike gather up every year to have meet-ups, listen to content creators seminars on particular topics, and attend genre-specific events to gain the knowledge to improve your brand. Awesome, right? If you can attend VidCon, I highly recommend it. I've heard great things and plan to attend next year. Sadly, this year VidCon is over, but there's always next year. I hope to see you there!
VidCon has grown so much over the past years, just as content creators start to grow too. At VidCon 2015, over 21,000 fans and content creators met up and enjoyed what they all have in common, a love for video. You can check it out on VidCon's website. VidCon believes in the power of online video. Saying it could be if it already isn't, bigger than TV. If you ask me, I don't even touch the TV remote. Often I find myself waiting for the next daily vloggers video to come out. It's the suspension, if you can hook your audience on great content, you're in.
Why Is Online Video So Important
One word. OPPORTUNITY. If I were summing up what online video and Youtube have become over the years, that word would be it. Thinking of it first from an education perspective. More and more schools and teachers are implementing videos that other people have created into their curriculum. Just think of AsapSCIENCE. With over 5 million subscribers, their community has racked up over 585 million views. It's the fact that online video not only provides educational and informative resources but presents an opportunity for those who may not have gone down the traditional path.
Opportunity For 3rd World Countries
Youtube is an online platform where users who create channels can post content on whatever they'd like. Simple right? That's the cool thing. All you need is a camera and an internet connection. From there you can use additional tools like editing software and audio tools to make your videos better quality. Electronic devices are getting cheaper and cheaper, making it more affordable for a wider range of consumers. Which means a kid in a 3rd world country could purchase a laptop or smartphone, and start making his or her videos. Or they could start immersing themselves in free, educational content to start down a path to a greater future. Empowerment. Developers, building platforms like Youtube empower the younger generation to get such an early head start and discover their passions early on.
Young Content Creators
We all see it. Browsing through Youtube, it seems like the more videos we watch, the younger and younger content creators get. Which is fantastic to see happening. Young content creators have ideas… and free time, which means they have the opportunity to start a profitable career if they bring the people what they want. But not all content creators have that drive. A lot of young Youtubers are focused on the money and fame side of Youtube. They want to do the least amount of work possible to gain the most subscribers as quick as they can. That's not right. It gets annoying when I (as a content creator) Go to put out content/videos, and I get spammy comments from other Creators telling me they liked my video and subbed, So I should return the favor and sub back. Only to go later down the road and have them unsubscribe from you. Creators like that are in it for the money and fame. They make Clickbait titles, spend 30 minutes on editing and call it a day for that video. But if we all focus on the positive side of Online Video, we can make a name for ourselves and build a great community of like-minded individuals.
When VidCon Started
VidCon began in 2010 at the Hyatt Regency Center Plaza but since then has moved to the Anaheim Convention Center. It's located in Southern California. During their 2010 conference, they had over 1400 attendees and the venue sold at in advance before the start of the conference. Their first year at the Anaheim Convention Center allowed for more people to attend. In 2013 they held their first conference with over 7,000 attending it. It's cool to see how much it has grown over the years. The year of 2015 they had over 25,000 people in attendance. That's a ton of growth over the years. Proving how much we appreciate Content Creators and Online Video. Cool.
VidCon Sparked Something Awesome For Creators
So if you're a content creator, you know the struggle. As a content creator, you usually want to partner with a network. That gives you the ability to do things like monetize your videos and use custom thumbnails. Along with many other great perks. But VidCon has sparked something that helps out creators from us. Young, new creators who are growing in the community. They have different levels in the creator hub that offer a variety of perks. With this, you get access to things like redeeming play buttons, special access to events, and even getting your manager. Super cool. So Let's break it down.
Graphite 0 – 1k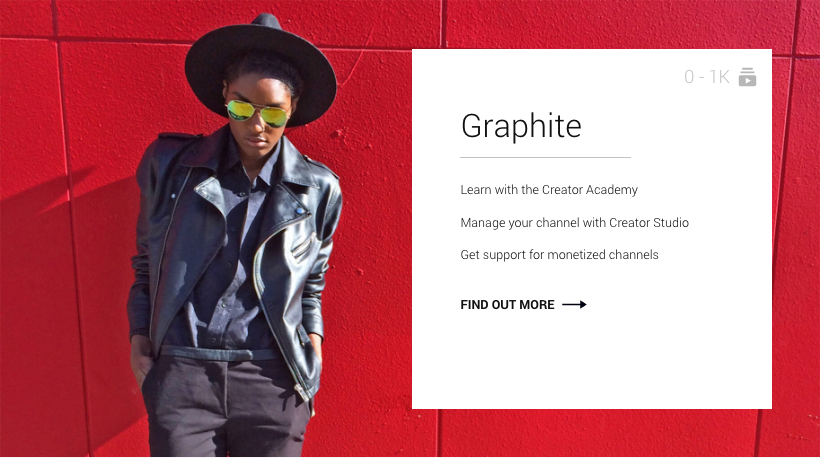 Here are the perks for Graphite:
Learn with the Creator Academy
Manage your channel with Creator Studio
Get support for monetized channels
Getting help to monetize your videos, add sound, and control your channel with Creator Studio are all great perks. Giving you the option to customize your banner, profile, and links. You're able to edit the "about" section on your channel to tell people what you're all about. Haha. Get it? These are all substantial perks to having when starting out. I can't stress how awesome it is to have custom thumbnails and music for your videos.
Opal 1k – 10k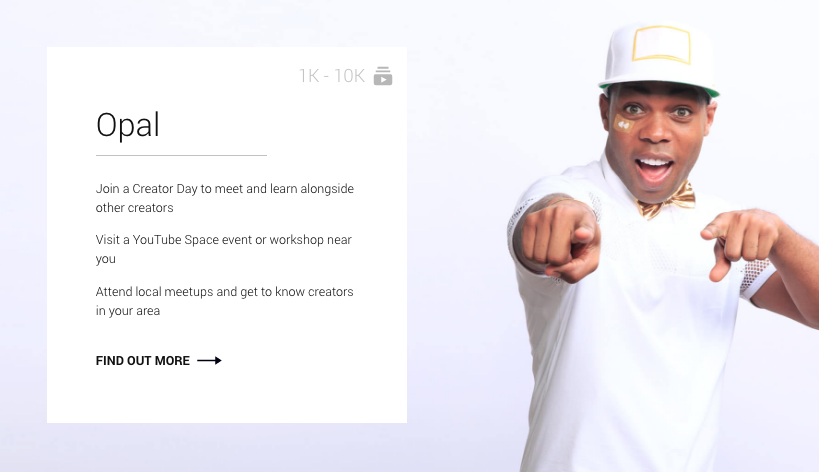 Here are the perks for Opal:
Join a Creator Day to meet and learn alongside other creators
Visit a YouTube Space event or workshop near you
Attend local meetups and get to know creators in your area
So Creator Days? (Aka networking). You get to learn more about yourself, Youtube, and others. It's a great time to find out more about what the community has to offer. You also have the opportunity to attend meetups organized by Youtube ambassadors. Who have 10k – 100k subscribers. Another opportunity to help your channel grow.
Bronze 10k – 100k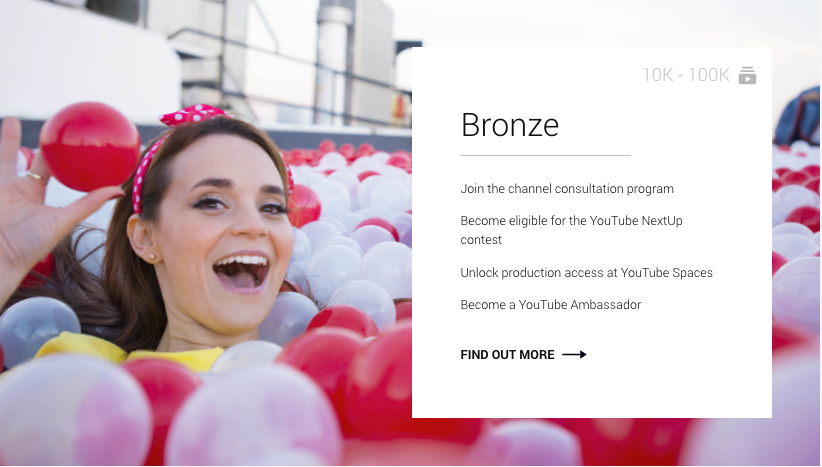 Here are the perks for Bronze:
Join the channel consultation program
Become eligible for the YouTube NextUp contest
Unlock production access at YouTube Spaces
Become a YouTube Ambassador
With Bronze, you get access to Production access, NextUp, and the ability to grow your brand. You also can become an ambassador so you can host events with other creators. You can have access to the Youtube Space production sets to make videos for your channel in different settings.
Silver & Up 100k+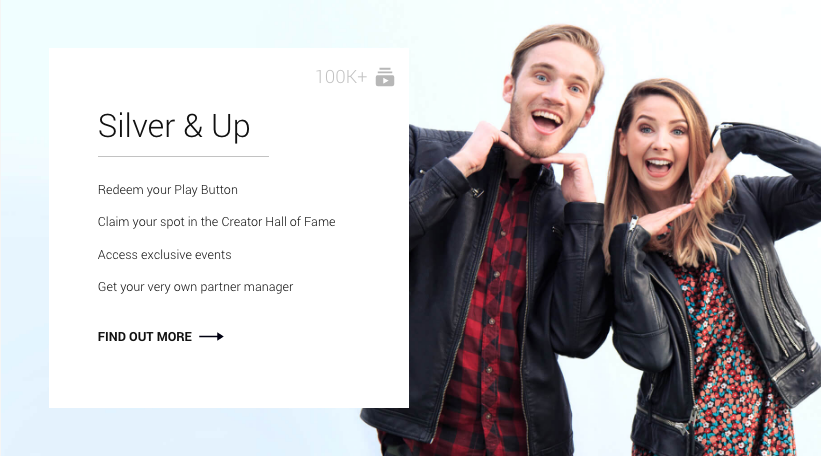 Here are the perks for Silver and Up:
Redeem your Play Button
Claim your spot in the Creator Hall of Fame
Access exclusive events
Get your very own partner manager
What?! A personal manager. If you have over 100k Youtube is committed to your success. You get some awesome perks when your reach Silver, so pat you on the back. You get exclusive access to events, your in the creator hall of fame, your very own manager, and a silver play button. Go ahead, show off that shiny piece of silver to your best friends!
Conclusion
So what am I trying to get across in this article? I'm showing you that there are tools out there to help conquer your dreams. And if you are consistent and provide quality content to your subscribers, you can grow your channel into something so much more.
I say for it, If your considering or just thinking about starting a Youtube channel, I say go for it. What is there to lose? If you're passionate about technology, make videos about technology. Gaming? Same thing! Go out there and make it happen!
Thanks for taking the time to read this! What did you think about it? Do you have a Youtube channel? We'd love to see it, so let us know in the comments below.
Comments