Remember clap on lights? These clap on lights were arguably the first smart home devices were we controlled them remotely. Now we control our lights with smartphones, voice assistants, and algorithms; at least if you're an early adopter or have a love for gadgets. These systems are not easy to use. The voice assistants don't always understand what you said, your smartphone runs out of battery, and the algorithms think they know best. The Knocki is a smart device which gives any surface smart controls from turning on the lights to ringing your lost iPhone.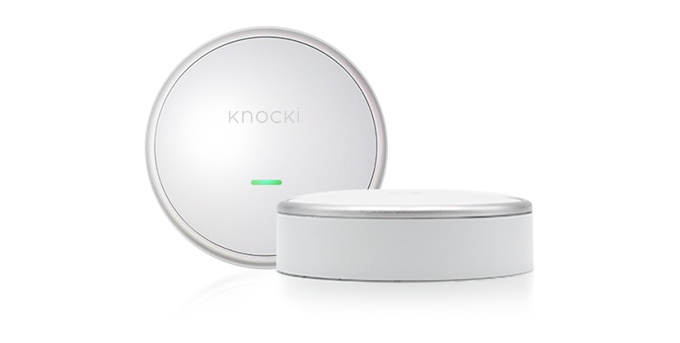 The use cases for the Knocki are endless! The smart device works with Nest, WeMo, LiFX, SmartThings, Iftt, and dozens of other services. The device works a little like the clap on lights but isn't activated by acoustic sounds. Instead, you'll only knock or tap on the surface with the Knocki installed, and based on which knock you did you'll activate one of its commands. The device can decipher deliberate knocks from random vibrations to prevent false positives.
Knocki is a Houston, Texas-based startup which is manufacturing everything in the United States. If you act quickly, you can snag the Knocki on Kickstarter for only $79 which is below the $129 retail value. You can place these devices on walls, under coffee tables, or on furniture. The places are endless, and it's a lot like moving your light switches to more convent places instead of having them in awkward or inconvenient places.
Tell us in the comments below what you would setup Knocki to do, and if you backed them on Kickstarter. Also, don't forget to tell them we sent you over to them!
Comments