Consumers are ordering more frequently online, and this means an exceeding amount of  packages being delivered to your front door while you're at work. This is a perfect opportunity for people to take advantage of your absence and swipe your packages. The Package Guard protects your delivered and unattended packages while you're at work or out shopping. Mike Grabham, the mastermind behind The Package Guard, likes to call these thieves porch pirates.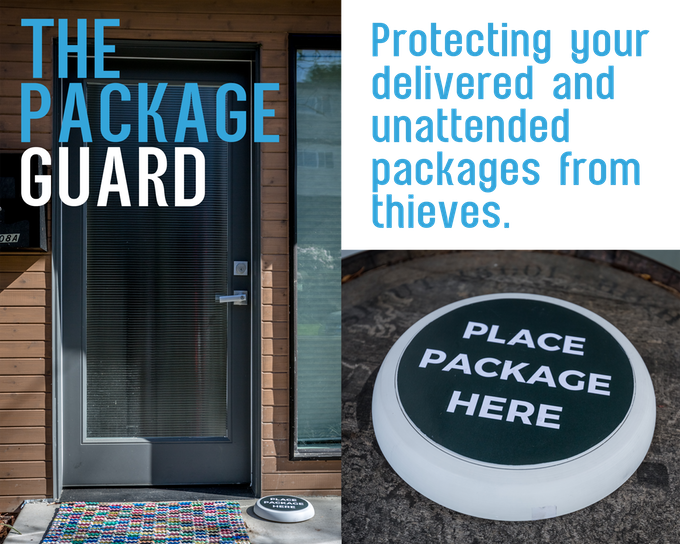 More than 23 million consumers have their packages stolen, and up until recently the only line of defense was either a clever hiding spot or trying to deter thieves with security cameras. The Package Guard is a frisbee sized scale that connects to the internet. When the mailman delivers your package they place the package on the scale. If someone were to try and steal your package a loud alarm will sound and alert your smartphone and your neighbors. From there a neighbor or friend can check to see if the packages are okay or call the police to report a theft.
The nice part is the package guard doesn't need an extra app. The guard works with email or text to alert you or your neighbors of your package being stolen. The device runs on 4AA batteries, which will last anywhere from 6 to 9 months before you'll need to change them out. The device can support more than one package, and can hold up to 400lbs of parcel.
The biggest hurdle will be getting the UPS, FEDEX, or USPS delivery man/women to place your package on the scale. We all know how they like to toss the packages down anywhere as fast as possible. Once you can get your delivery person on board your packages will have another level of protection from these porch pirates.
The Package Guard will retail for $80, but is currently available for $50 during the limited early bird Kickstarter period. The low price and easy set up it will be easy for everyone to snag one of these to protect all their mail being delivered to their front door. I will likely pick one up because I'm constantly worrying if my package was delivered or if someone swiped my package from the front door.
Tell us in the comments below if you're going to back the Kickstarter and what you think about the Package Guard!
Comments