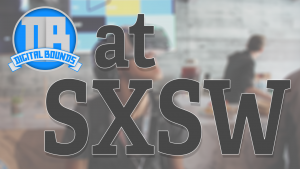 South by Southwest (SXSW)  is a big party where music, film, and technology experts come together to share their knowledge, grab a taco, and have a drink together. South by Southwest Interactive dubbed 'spring break for geeks,' which means lots of drinking, networking, and brand activations. You'll walk a few feet and see brands like A&E advertising Bates Motel by setting up a replicate motel in the heart of Austin, Texas. This year we'll have a lot of brands bring unique, wonky, and down right crazy experiences to Austin to not only keep your attention but hopefully garner the attention of the global news market. Gillette, the razor brand, will have a VR experience and the St. Bernard's will once again bring backup battery packs.
Besides the brands, the event brings social media into real life. Mashable has an awesome house where it brings memes, tweets, and viral content to life to showcase how the year has been so far. SXSW isn't just fun and games. There are a lot of speeches and interviews about how technology affects journalism, politics, driving, and everything else in our daily lives. This year, on the 30th year of the annual conference,  the conference will have a sitting President talk during a keynote speech. It's going to bring the most people to seeing what the President has to say, and will likely cause traffic and longer lines than normal.
Making it through SXSW is different than making it through CES or MWC. Those are trade events, and SXSW is a conference where your whole purpose is to network, share ideas, and have a lot of fun. I have a few tips and tricks to make SXSW a better experience from how to get around Austin to how I found what events to go to.
Use Eventbrite
Eventbrite is a great app for finding local networking events, parties, and concerts. It's also a fantastic tool to use during SXSW. Everyone is posting parties and talking within the app, which makes it the unofficial way to find bar crawls or the best after party.
Last year I used it to find a great taco meet up, a bar crawl, and the Pebble Time smartwatch pre-launch party with the Pebble team. You're able to RSVP a spot, which is key when close to 30,000 people are trying to attend the same event as you are.
Planning and flexibility are key
Planning out what you're going to do is a key to making it through the event, but also, be ready to change abruptly what you planned. What makes SXSW amazing is how world or trends on social media can significantly affect the event. The Arab spring and Edward Snowden's revelations have all influenced the conversations and events.
I always recommend using Google Calendar or Sunrise to set your schedule. They allow you to set the location so when you travel you're not worried about all your events time. I've made the mistake of using Apple's or Microsoft's calendar apps, and then when I switched time zones, my calendars were all wonky. It was a pain to change my events to the correct time zone, so I wasn't showing up late.
Having a packed and rigid schedule isn't ideal either.  There are a lot of activities that are planned the day before, or you only hear about a few hours beforehand. On top of that, you're networking with hundreds of folks, and one might invite you to a last minute party or out to have a drink. Pick the key speeches or interviews you have to see and plan around those. In my case, I have two events each day that I have to attend, and around those, I have a speech or lounge I want to visit. They're important, but if I'm not able to see it, I won't miss a beat.
Show up early
Austin is a major city with millions of residents, on top of that 30,00 attendees flock to the city. It makes traffic unbearable, and every event has lines miles long. I've always said conferences and trade shows include more waiting in line than listening to talks or in the venues. Now waiting in line isn't a total waste. You have someone in front of you and behind you to network with. They're interested in what the speakers have to say, and you'll have the opportunity to pick apart someone's brain before the event.  Maybe you'll even get a drinking buddy along the way.
Party, I mean network
Go to the party! I cannot make that any clearer. I know you've been going at the crack of dawn, but heading out to that late night party isn't so much about having too many drinks and dancing on the bar counter. It's about having the causal interaction with fellow technology professionals. Having a conversation at these SXSW parties are the best way to make connections. I've made friends, found work, and created friends with people I've talked to at a party I didn't want to go to but made myself to because I knew the value of networking.
Overview
SXSW is a massive event, with three festivals spanning film, music, and technology all going on simultaneously. The size and scale allow convergence between all of these, such as Spotify being a technology company but also a music company. It highlights how we rely on technology in our everyday lives, and the fact that soon every company will be a technology company.
It's also my favorite event of the year and beats Google I/O, CES, and other press conferences. It's where social media is in real life, and all your internet friends converge on Austin for the week long event. I'm going to SXSW to enjoy the incredible speeches, brand activations, and networking.
I'll be vlogging SXSW on the Digital Bounds YouTube channel. Subscribe and turn the notifications on to see my experience throughout SXSW. If you're going to SXSW follow me on Twitter @leonhitchens and on Snapchat so we can finally meet.
Tell us in the comments below what you're the most excited for during SXSW!
Comments