About a month ago F.lux introduced a way to install their app without jailbreaking. The work around wasn't easy but let users install the app which changed the color saturation based on the time of day. The changing color removes blue colors which has adverse affects on sleeping. Apple requested the app stop the work around, and F.lux stopped the app download preventing users from installing the app, Now Apple's introducing a feature, Nightshift, mimicking what F.lux has done for desktops and jailbroken iPhones for years.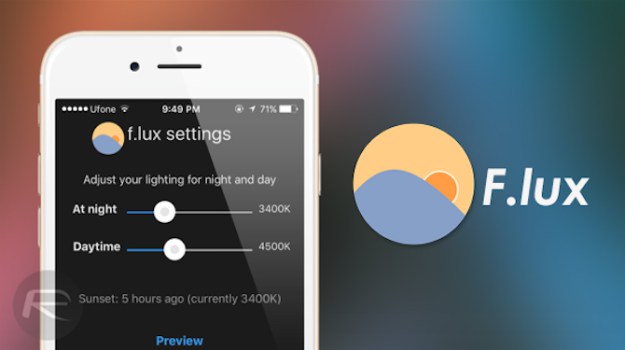 Nightshift will shift the displays color from blue to yellow in darker environments. Studies have shown the color changes to the screens can help with normal sleep patterns, especially if you do a lot of reading or work on screens later into the evening. F.lux hasn't been able to get on the app store because they 're aren't the proper APIs available to make the color changes. Now instead of building those APIs, Apple's making a feature built into iOS 9.3 that's copying the app's features.
Apple has blocked other apps that mimics features of Airplay and other 'Apple' features but this bold copying of f.lux is atrocious. Apple shouldn't build a feature into their OS, but instead build the proper APIs to have f.lux available in the app store. I know Apple hasn't always been open nor favored third-party developers building features that change their core OS.
iOS 9.3 is in beta but is going to hit iPhones in the coming weeks. Along with Nightshift the beta brings Apple News updates, more 3-D touch options, Touch ID for Notes, and improvement to CarPlay. The updates are small but improvements are welcomed even if they're copying other long time apps.
Tell us in the comments below what you think about Apple copying the f.lux app and whether you'll use the new Nightshift features!
Comments