Earlier this year, Google and Asus showed off the Chromebit. Now they're finally starting to sell the devices for only $85, which is reasonable. Other dongle computers run for $150 to use Windows on any old monitor or TV screen. The device still requires a bluetooth keyboard and mouse, which might run another $50 to start, unless you have an extra one lying around.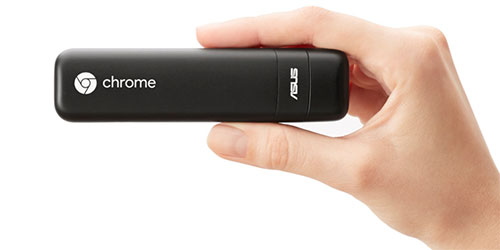 The Chromebit has 2GB of RAM, 16GB of storage, a Rockchip processor, Wi-Fi, Bluetooth and a USB port. They come in three colors: blue, orange, and black but the blue still isn't available for sale. The dongle only weighs 75 grams, making it super portable and light.
The device would be handy if you travel a lot and want your hotel tv to play Netflix or other videos. It could also be useful for business meetings to present power points, or other presentations. The Chromebit is also cheaper than other Chromebook or any other laptop out there for when you're traveling or working on business.
Tell us in the comments below if you'd buy the Chromebit for only $85!
Comments