There has been a lot of talk lately about Google's ChromeCast. But is it just not enough?
I personally think ChromeCast is a great idea. And it's cheap. Like $35 cheap. Considering the Apple TV is $99, ChromeCast is affordable for any budget. But it's not great. Yet.
ChromeCast can currently do the following things:
Watch YouTube videos from your mobile device
Play Google Play content
Watch Netflix videos
and browse Google Chrome
And the Apple TV can do these things:
Watch YouTube videos
Stream music, photos, and videos using apple AirPlay
Watch Netflix
and use much more apps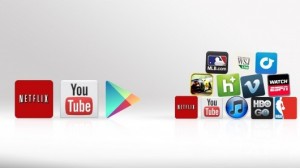 But some say that that isn't enough for them. In my opinion, it's a good cheap option for somebody that's wanting to do the things listed. But if you're someone that owns a device such as a PS3, xBox 360, or even a Smart TV, don't get ChromeCast. ChromeCast can do the same thing those devices can and many other devices.
Google's ChromeCast is a small thumb-drive sized HDMI device that turns any HDMI-compatible tv into a streaming hub for your mobile device. It's a smart idea, and some say it will, and maybe already is competing with The Apple TV.
Rumors have been speculated about future updates to ChromeCast, but not a lot is known and the rumors aren't all exactly true.
So what do you think? Will you be getting ChromeCast? And if already have it, do you like it?
Buy ChromeCast Here.
Read Leon's review on ChromeCast Here.
Comments